Progress Powered by Technology, Seeded by People
Our vision is a renewed Earth. We begin with our SEEDesign™ platform
Our Points of Distinction
Cutting-Edge Technology and IP Platform
Predictive Design: creating an editing blueprint through deep learning and machine learning
Advanced Multiplex Gene Editing Toolkit: facilitating multiple edits across multiple genes
A rich pool of intellectual property with broad application
Well-Defined Commercial Strategy
Unique commercial relationships with Independent Seed Companies (ISCs) selling directly to farmers
A superior feedback loop between Inari and farmers via ISCs, informing future products
Strategic partnerships with leading seed companies enabling market expansion in new crops and regions
Step-Change
Products
Sustainability Impact: focusing on the world's largest crop types
Efficiency Improvements: product pipeline includes fertilizer and water use
Yield Increase: projecting as much as +20% in Inari's current crops vs. historical increases of ~1% per year
Diverse and Highly Experienced Team
Unparalleled experience across agriculture, biotech, commercial, intellectual property and academia
Active support from a world-class Scientific Strategy Board composed of genetics experts from top global institutions - including Jennifer Doudna, 2020 winner of the Nobel Prize in Chemistry for the development of CRISPR-Cas9
Ambitiously Grounded
We embrace challenges and are willing to take risks to deliver high impact results. We respect diverse views - seeking out and supporting ideas from others.
Collaborative Innovators
We are curious explorers who believe collaboration can overcome limitations and expedite success. We bring new people together to cultivate diversity in thinking, development and execution.
Stewards of Our Planet
We hold ourselves accountable for the footprint that we create and strive to protect the Earth for future generations.
Inari's leadership brings a wealth of knowledge and experience to drive the business forward through collaboration with team members at every level. They are both accessible and deeply involved - inspiring, innovating and mentoring to ensure the success of the organization well into the future.
Our Scientific Strategy Board
Comprising some of the brightest minds in modern science, their passion for our work helps unlock the full potential of our people. Through regular engagement with each of our teams, they help to set our direction - always challenging us to think bigger and bolder at every turn
You can achieve great things when your board is passionate about the vision and mission of the organization. Our board brings experience and depth of knowledge to further enhance the talents of the team.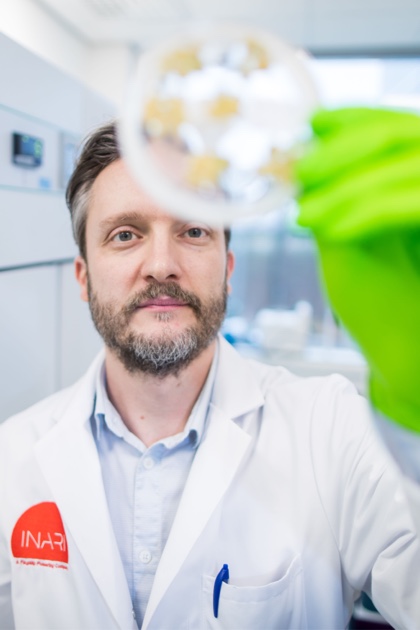 Join Us
We are driven by our mission to build a more sustainable global food system for the benefit of farmers, society and the planet. If you want to challenge the status quo within our bold, diverse culture, join us - and find out how you can help grow tomorrow with Inari.